CdgLinks designs, prints and distributes premium quality scorecards for golf courses and golf tournament events.  Each card is custom designed by graphic artists that are trained to create golf scorecards that are a step above a normal scorecard design to enhance the course experience.  Scorecards that are funded through  advertising may be available to approved courses at no charge.  Contact us to learn more: 817-447-4450.
Tournament Scorecards Designed To Increase Event Revenues
Golf tournament event coordinators are constantly looking for new ways to generate revenue.  These scorecards provide just that, an exceptional opportunity to raise additional money through premium placement above the scoring area.  The sponsor that purchases the spot receives some of the best exposure of the event… 4-5 hours of continual branding for every golfer at the event. It's a win/win scenario for the organization and the sponsor.
2016 LAAHU Tournament – Lubbock, Texas
2015 Burleson Chamber Golf Tournament
2019 Chisholm Trail Academy Golf Tournament
2016 Burleson Chamber Golf Tournament
Golf Course Scorecards – Premium Quality with Advertising
CdgLinks had numerous inquiries from golf courses regarding the higher quality scorecards.  The challenge was the cost involved to produce them without increasing the golf course budgets, so CdgLinks decided to start providing free, high quality cards to golf course that were printed from advertising revenues.  Other companies provide scorecards in this manner, but CdgLinks stayed with their focus on quality and decided to keep the advertising to a minimum number of spots.  This enabled the courses to receive high quality scorecards at no cost while retaining the high quality standard the company has always focused on.  If you are a golf course that would like to inquire about receiving complimentary scorecards, or an advertiser that wants to market to the high quality golfer market; contact us for more information.  817-447-4450 or info@cdglinks.com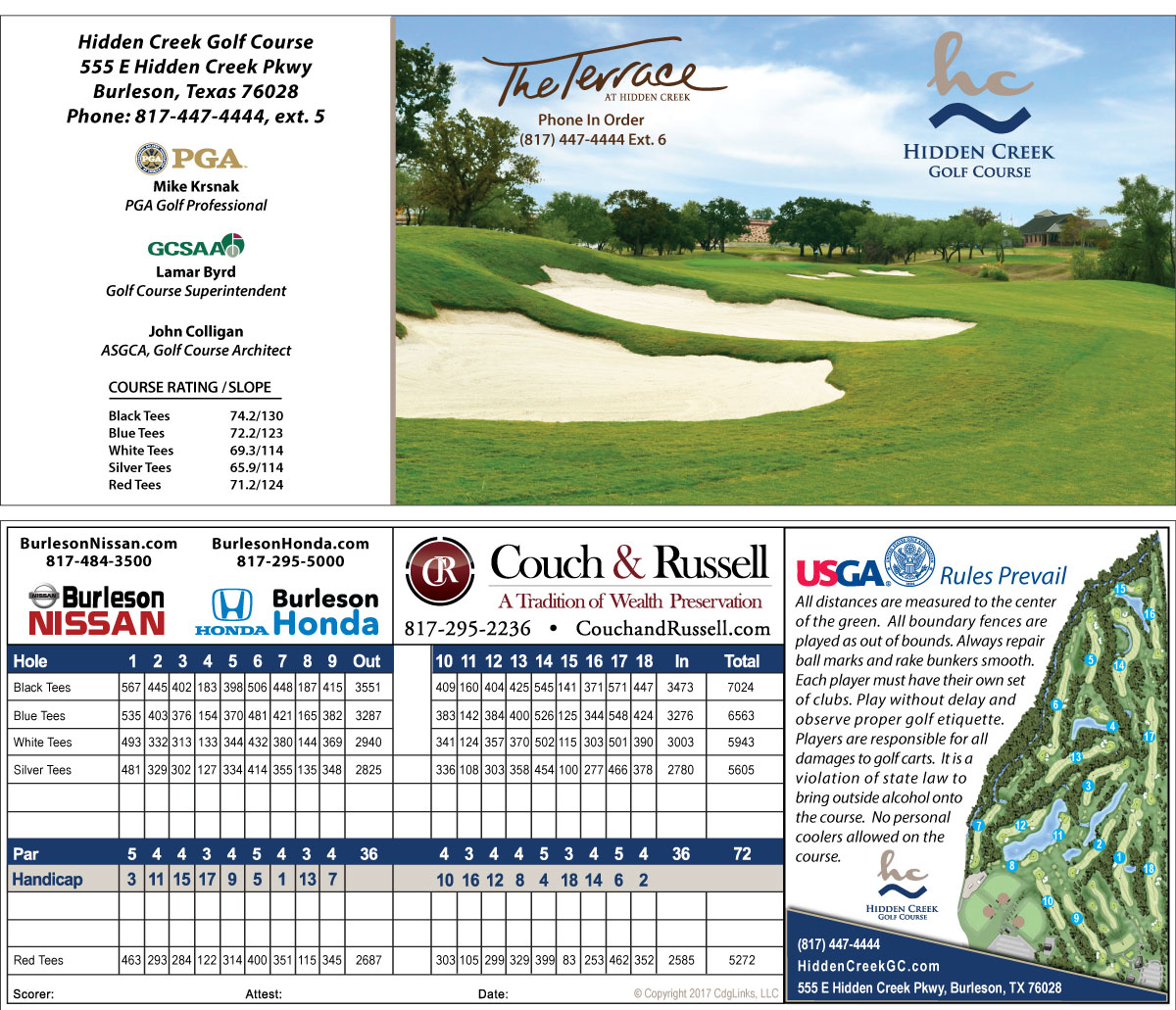 Location
Burleson, Texas 76028